ODPC Funfest, Evart, MI
Frequently Asked Questions
(And Answers)
I've tried to summarize the most frequent questions. If you have other questions, send them and we'll add them to our "frequent" list. I keep updating.
The most frequent questions which I receive, are "I want to come, how can I pre-register?" Or "How/when do I pre-register for workshops?" Or, "Can I make a reservation for camping." The reply to those questions is that you just show up. No pre-registration for the festival, nor for the workshops is necessary. Camping is all first-come-first-served. Things are changing. Lots of utilities have been installed and buildings have been built. Although I've tried to update the answers, I don't live near Evart, so I get word of changes second-hand and the last time I was actually at the festival site was for the July 2016 festival.)
Most of the questions you'll see below were actually received from folks who have contacted me or wrote to the dulcimers@yahoogroups.com email list (although I sometimes re-word them slightly to make them more "general".)
Please understand, I do not represent the Fair Board. I am only a fellow festival-goer. I'm providing the information only as a guide. If you need exact information regarding camping or the fairgrounds, always CALL the Osceola County Fairgrounds because I do not guarantee my responses to be accurate!! Their phone number is 231-734-5481. That's also the number to call in case you must reach a festival-goer in an emergency situation so leave it behind for your family.
The fairgrounds address is:
Osceola County 4-H Fairgrounds
101 Recreation Ave.
Post Office Box 346
Evart, MI 49631
Their email address is: osceolacountyfair@sbcglobal.net
Their website is http://osceolacountyfairgrounds.com/
While in Evart, you may want to take in other events that are scheduled by the city for festival goers.
City of Evart's website. Check out the calendar.
Click here for an aerial view map showing the area around the Fairgrounds. It's hard to read the words that I've added to the map, but if you look carefully, in the center is the word "Fairgrounds" where the festival is held. You can also find Foster's Market (on the south side of the fairgrounds), McDonald's (across US-10 from Fosters), the Osceola Grand Hotel, and places on the fairgrounds.
Expenses/Fees
How much does it cost to camp at Evart?
Camping is $20 nightly or $17 for primative and you must pay to the conclusion of the festival even if you know you can't stay the full time. With so many campers, the office must assume all campers are staying until Saturday night. If you know you won't be staying until Saturday, you'd be wise to talk with the office about your plans so you aren't surprised.
Can you "make reservations" for camping?
The Osceola County Fairgrounds management policy is stated on their website: Osceola County Fairgrounds - Check there for camping rules regarding payment, etc.
If you have any questions about the policy, please contact the Fairgrounds.
If you pay for camping, what does that cover? What about the ribbons?
The fairgounds charges $20 nightly for camping and $17 for primative. You pay one fee for camping which covers your site.
You can also use the sanitary dump station at no additional charge. There are NO sewer hookups.
The ODPC charges $7 for admission to the festival (for one day) or $15 for all 3-days. The fee includes your membership in the ODPC.
The Fairgrounds camping and ODPC fees are totally separate. You will need to pay $7 (or $15) to the ODPC in addition to what you pay to the fairgrounds. You aren't really buying the ribbon (or wristband), you're paying your admission fee. You MUST pay the gate fee or you cannot attend the festival. There are no exceptions. (Even workshop leaders, and officers must pay the gate fee.) The camping fee goes to the fairboard. The daily cost of $7 (or $15 for the whole event) goes to the ODPC. Each is a separate organization.
If you don't camp. Your only charge will be the gate fee. ($15 covers the entire festival and your membership in the organization.) If you come for one day, it's $7. It's a pretty rotten person who would try to "sneak" in and try to avoid paying the gate fee.
Why did the camping rates go up??
$20 is a low rate for a campsite. Folks mistakenly think that the Fairgrounds makes a bundle, but if you figure out how much they take in for the festival, and consider that the Funfest is the only time of the year that the whole campground is in use, you'll realize that what they collect isn't sufficient to cover utilities, ground maintenance, salaries for those who work at the fairgrounds, and all the other costs, while making improvements to the facilities. Over the past few years there has been a strong push to find other groups that want to use the facilities. The woodcarvers hold a meet in June. The fair is immediately after the Funfest in late July. But for the most part, the rest of the year, the campground is pretty empty. Maybe you know of a group that needs a great camping area. If so, consider the Evart Fairgrounds.
Does the fairgrounds allow you to pay for your campsite "rent" with a credit card?
Yes, the fairgounds will take credit cards. Read the Camping Policy on the fairgrounds website.
Camping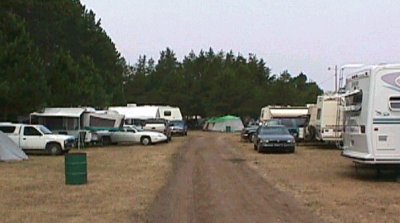 I'm coming to the festival. What about camping?
First of all, welcome! You'll love Evart. It's an event that will become the high-point of your year. The photo on the right is a typical camping area in the main campground. In my opinion, camping is the most fun way to enjoy Evart. You get to be part of the action from the beginning to the end. It's a 24-hour experience.
I haven't been able to attend for several years but I understand big changes were made at the fairgrounds because of some deal with a water bottling plant. What can I expect?
Lots of changes have taken place at the fairgrounds over the past years. Thompson Park is no longer available for camping. The Fair office is now in the new building.
Will I be able to get electricity?
There'll be power for most of the main fairgrounds. Chances are pretty good that you will be able to get electric power. Not all powered sites can handle air conditioning. Some will only allow you the basics, but since all festival goers got by totally without power for over 40 years, the newly added utilities really improve things. But some folks still need to get by without power. There are NO guarantees.
Why doesn't the fairgrounds install electric hookups for all campsites?
That's what's planned eventually, but not all of the hookups can be permanent because some of the areas are used for tractor pulls or horse showing when the fair comes to town. In those areas, hookups must be able to be moved out of the way.
If I come in, say the week of the festival, how early can I expect that the gate will be open so I can find a spot?
The gate opens at 8:00 a.m.
We're from the west side of Michigan and hope to come and camp for 2 or 3 nights at the Funfest. Looks like a group of 4 couples. Is that possible?
To secure sites close to each other, you're going to have to come early or be flexible. The fairgrounds is huge, but finding clusters of open sites after the weekend before the festival (or maybe earlier - there's no way to know), is difficult.
Can I be sure I'll get a campsite if I come on Tuesday or Wednesday of festival week?
Last year the main part of fairgrounds was full almost a week before the festival started but there were over-flow areas.
How can I be sure I will have a campsite, if I am coming a distance?
Read the "Camping Policy for events held on the Osceola 4-H/FFA Fairgrounds" at the top under the heading, "Expenses/Fees." It's important that you call the Fair Office to check to see if things are full and, if necessary, be prepared to reserve using a credit card.
Are there any restrictions or guidelines relating to how many tents, pop-ups, cars etc can be in a camp cluster?
The sites are not large. It's expected that only one camper be placed on a lot. (Auxiliary tents for kids are allowed when it's one family unit, but only one main unit per lot.) Remember this isn't a "camping" event, it's a music event. You don't go because of the campground, which is a large well-kept fairgrounds. There are also some group areas for tents. Talk to the fairgrounds.
A couple of our ladies are CURIOUS about the availability of showers.
Showers are clean, hot and fairly plentiful (several permanent structures) in the main part of the fairgrounds. There were two new restrooms added in 2007: one near the main gate and one in the middle of the workshop areas where the Goat Barn used to be and in 2010 the two older restrooms were totally renovated. They're all clean and in good shape.
On Thursday, Friday and Saturday of the festival, you may experience lines to use the ladies rooms.
Are camping reservations necessary?
There are NO reservations. (Read the camping policy at the top of the Frequently Asked Questions.) First come first served. Folks started arriving early in June. For many of us, the time before the festival is the most fun. Folks sit around playing and getting acquainted. I would suggest that you plan to arrive as soon as you can. What many groups do is to send one couple early to pay for the sites of all, but you must pay through the end of the event. In other words, once you pay for the site it's yours even if you aren't camped on it, but that's the only way to make a reservation.
Just a warning, since sites can be paid for but not occupied, NEVER set up on a campsite without first checking to make sure that no one has paid for that site. (I have heard of a person who thought they'd set up first, then pay. They sat up their tent three times and each time they discovered that someone else had already paid for the site. I've also heard of folks taking a list of available sites, and checking them out. But when they returned to the office, someone else had already paid for the site they wanted. It's best to find a site, check to make sure it's available and hurry back to pay for it BEFORE you set up your camp.)
Fire restrictions?
No ground fires at all. It's really pretty crowded and there just wouldn't be a way. In fact most of us wouldn't consider cooking over charcoal or anything that produced too much smoke because our neighbors might not appreciate it.
If you get there on Wednesday (the day before the festival starts) is there still room to camp?
You'll probably have few choices. There is an "over-flow" area but call to check.
What kind of facilities are available to campers?
I'm not sure what you mean. There are nice showers and restrooms. Some sites have electricity. There's a "dump station" and you can arrange for the "honey wagon" (a fee is charged) through the office.
What about ATMs and a library with Computer Access?
Evart has both. There is an ATM at a First Merit Bank on US-10, east of the fairgrounds. And there is a library that has Web Access.
Is a coin operated laundry available?
Yes, there's one that's not far from the fairgrounds. Ask any Evart resident (and many work at the gates) for directions.
Is internet available?
The fair office provides an "internet cafe" in the Community Building (where the fair office is located.) You could bring your laptop and connect for free.
Also the Motel southeast from the fairgrounds offers high speed wireless. Folks have discovered that southeast corner of the campground borrow the high speed internet from the motel (and the motel doesn't mind.)
How far it is from the camping areas to the 'main part' of the festival?
If you could walk from one end of the fairgrounds to the other or from one side to the other, you could walk either in easily 10 minutes or less depending on how fast you are on your feet and if you are carrying a large or small, light or heavy instrument - and how many friends stop to talk to you on the way.
Folks said the distance is directly relational to the weight of your instruments.
But it depends on where you camp. Camping is spread out over a large area. It's a bit of a haul to the workshop area from those furthest corners, but a lot goes all over the grounds. It's a huge fairgrounds and growing.
Are there any restrictions on bicycles?
Yes, there are restrictions on bikes. No bikes can be ridden during the festival at all. If you are there before the festival begins, you can ride to your heart's content, but from 8:00 a.m. Thursday until noon Sunday, you must walk your bike to the gate before you get on it. Bikes are welcome in the city of Evart. The reason bicycles aren't allowed during the festival is that the foot traffic is fairly heavy and if folks were allowed to ride there could be some real problems.
I saw on the program a brief statement of festival rules: "No bikes; no alcohol. Sales only by vendors except in the ODPC designated area. (Performers or workshop leaders may sell immediately after classes or performances.) No electrified instruments; no band wind instruments; no woodwind instruments; no drums except bodhran." Whose rules are these and when do they go into effect?
These are "ODPC Rules," and they go into effect when the festival starts at 8:00 on Thursday, ending at noon on Sunday. Therefore you'll see bikes, dogs, electric instruments, etc. before the festival starts. Of course when it comes to "drugs" they are illegal by law and therefore obviously illegal anytime. And we always try to be respectful of our neighbors so I'm sure that a loud wild party would be handled by fair management even before the festival starts, but the ODPC rules do not go into effect until Thursday because that's when the ODPC "rents" the fairgrounds.
What if I have some special camping needs or concerns?
The camping is run by the fairboard, NOT the Original Dulcimer Players Club. The fairgrounds number is 231-734-5481. Their email address is: osceolacountyfair@sbcglobal.net They are cooperative and helpful.
What if someone is causing problems in the campground? -- (Example: drinking: alcohol is prohibited.)
Contact the office immediately!!! They'll handle the problem. (Yes, even at Evart occasionally someone violates the no alcohol rule during the festival. It's really rare, but it has happened. But the fair workers can't fix the problem, if they don't know, so go to the office. The Fair Board President, Rick Sherman, will be camped, so even if it's after the office has closed, he'll deal with the problem. Guaranteed!!
I don't camp. Can I rent a motel/hotel room?
If you need a place to stay and camping isn't your "thing," check with Roger Elkins, the former "mayor" of Evart. He has a list of the local motels and hotels. E-mail him for that information. Ask for the "Motel and Hotel List". The earlier, the better. Don't delay. You can always cancel. His email address is: rogerelkins@netonecom.net
Instruments/Classes/Jamming/Music/Stageshows
Why isn't this festival like other "dulcimer" festivals that feature both mountain dulcimer and hammered dulcimer equally?
The festival is sponsored by the O.D.P.C. Maybe folks should understand that the "O" in O.D.P.C. stands for "Original". When the original members of the club named it, they wanted the "O" to have a double meaning. Yes, it was the first hammered dulcimer club in the nation, but more importantly the club was established to promote the "Original" dulcimer, which is the hammered dulcimer.
The Bylaws of the O.D.P.C. clearly states the club's purpose:
(quoting) Section 1. Purpose.
The purpose of the Original Dulcimer Players Club is to promote and preserve the art of playing the Hammered Dulcimer. To provide an organization where dulcimer players can exchange information and knowledge regarding the instrument, with each other. To provide for workshops, seminars and concerts. To make this instrument better known to the public. To perpetuate the art of construction and playing this instrument so that the knowledge can be of benefit to future generations.(end of quote)
Since the O.D.P.C. has only four meetings a year, and the biggest activity is the Funfest, it's important that the purpose be fulfilled.
Why aren't there workshops classes featuring the instrument I play?
Instructors must volunteer. If we don't get a qualified instructor to instruct a particular instrument, we can't offer classes for that instrument. And remember we must allocate the available spaces to a whole slew of instruments.
Why aren't there more mountain dulcimer classes?
The festival is primarily a hammered dulcimer festival. (Please read the explanation of the O.D.P.C. above.) But mountain dulcimers and other acoustic stringed instruments like ukulele, guitars, fiddles, harps, autoharps, dobros, banjos, etc., as well as instruments like bodhrans and penny whistles, are welcome.
Here are the guidelines I used when I was workshop chairman to allocate the approximately 200 class slots:
Half of the classes should be hammered dulcimer classes. The remaining 100 classes slots are allocated to the non-hammered dulcimer classes according to the percent of players who play that instrument. There is an attempt to have at least one class for every instrument.
Can we bring our instruments?
Definitely!!! Everyone brings instruments.
Before the festival, you can play most any instrument you want. (You'll even see a few electric keyboards and a tuba or splat horn.) After the festival begins (Thursday at 8:00 a.m.), you can only play strictly acoustic instruments (nothing electrified nor with any kind of amplifiers). No valve or reed wind instruments (penny whistles, harmonicas and accordions are ok). No drums either (except Irish bodhran drums).
You will want to attend workshops so think in terms of every instrument you have that you want to play, not just those you do play.
What kind of music will I hear? I like "celtic". (Or you can replace "celtic" with "bluegrass", "fiddle", "traditional", "country", etc.)
You will hear every type of music imaginable. Everything gets played from rags to waltzes. From country to classical. And if you don't find a jam playing the style you prefer, start your own jam. If you pick up your instrument and start a tune, it won't be long before someone will join you.
Can you attend a class even if you don't play that instrument?
You can sit in on any class, even without the instrument. But it would be advisable to check with the instructor before bringing different instrument to a workshop if you expect to play along. (Might be better to just listen or sit in the very back and play so softly only you can hear it.)
Can you summarize "Jamming Etiquette"?
In almost every case, a jam is NOT something you wait to be invited to join. A jam is a place where you bring yourself and your instrument and see what you can add. If you are confident that you have the skills to join in you play loud enough that others can hear you. If you aren't confident yet, play softer or play on the outskirts of the jam. Listen and see how you are blending in. Play carefully..... but PLAY. If you wait for an invitation, you may be waiting a long time. It just isn't usually done that way.
There is also the possibility that you could run across a "private jam." That doesn't mean that no one else is welcome but there are jams that you probably would not join in without asking first. Usually the number of people jamming is a clue. As a rule of thumb it never, ever hurts to ask no matter how big or small the existing jam.
The point is that asking is always ok (which also means that being told "no" for whatever reason also has to be acceptable). Being asked to join in should never be expected.
I'm anxious to buy a dulcimer. Should I buy it before I come, or wait until I'm there?
You'll find the best selection of instruments at Evart. No where else will you have so many builders showing their wares. You can compare, and decide what sound you like best. There are always helpful, experienced folks around willing to give you advise. AND there are used instruments for sale in the ODPC office. If you come before the festival starts, you may also find some for sale in the campground, but when the festival begins, the only "legal" sales areas are in the vendor buildings and the ODPC office area.
What instruments are permitted?
No electrified instruments, no horns, no valve instruments and no drums (except the bodhran). Others are permitted.
Pets
Are pets permitted?
After the festival starts (Thursday) all pets must be at their campsite on a leash. They are not permitted elsewhere on the grounds AT ALL!! Only exceptions are leader dogs and other service animals which are allowed as laws permit.
Do not bring your pet with you if you are just coming for the day. You won't want to leave it in your hot car, but that's what you'll have to do. If you are camping, you may have your well-behaved (attended) pet at your campsite. But be aware that, if your dog is a "barker", you might be asked to leave.
The festival rules cover the period of the festival. Therefore the "at the campsite" rule starts when the festival begins and it is in effect Thursday-Sunday noon.
Food for the Spirit and the Body
Is there a Sunday morning worship service on the grounds as part of the weekend?
There's a gospel stage show Sunday morning which ends the festival and a church right outside the grounds that many attend.
What about food?
As far as food, you'll find yourself too busy to do much cooking, but there are lots of reasonably-priced vendors and a nice supermarket (Foster's) right outside the gate (where prices are cheaper than at home). Foster's also has a delicatessan. Most of us never move our cars once we get there. There's a Subway, and a McDonald's across the street from Foster's. There are several restaurants in town and frequently church fund-raising dinners are held at the various churches. The Lion vendor booth and the football booth both have excellent food.
Should we plan to bring food for all meals -- or is there food available?
Food is available and reasonably priced. Lots of folks don't cook at all. In addition to on-site vendors, there's a Micky D's, a Subway, super market and drive-in within walking distance.
Additional dining notes: One of the places I always look forward to is the Mishlers Drive-In, within walking distance (east about a block). It's like the drive-in's from days past. There is also a pizza restaurant in town with a Sunday "all-you-can-eat" pizza buffet. (But restaurants come and go. There may be new ones since last year.)
Traveling to the Festival
I need to fly in. What's the closest city I can fly into from Florida? (or you can fill in Texas or Japan and most any other location.)
Probably your closest terminal for connections would be Grand Rapids (GRR) but Midland/Bay City/Saginaw aka Tri-City (MBS) is just about the same distance so check that airport as well.
Anything Else?
Is there anything else I should know?
This is a music festival. It's 85% players or spouses. So the amenities of the fairgrounds are secondary. It's not camping like you might experience at a campground where a bunch of folks get together just to enjoy a "camping experience" and hookups and amenities are expected. At Evart, it's music music music. You'd be driven crazy by it if you didn't enjoy music. You will wake up to it and go to sleep to it.
Once in a while someone will "complain" to the office (or to the ODPC) that there is "too much" music. They wanted to sleep but people were still playing at 4:00 or 5:00 a.m. Music is ALWAYS welcome at this event. So if you can't sleep while music is being played outside your door, bring ear plugs, or think about camping some place other than at the fairgrounds. You will be 100% in the wrong (and you'll be very unpopular) if you say anything to folks about it being "too late" to play music because you want to sleep. Personally we sleep better to the wonderful music outside our door.
Warning. The "long hours" and huge jams are especially popular in the Swine Barn, the Dairy Barn, the ODPC Pavilion, the 4-H Building, the Rabbit Barn, (in fact in the vicinity of any buildings), and the Workshop Leader Rest Area. But late night music has also been known to occur under a street lamp near the dump station and anywhere else. Even if you find a corner where you think you'll be safe from the music, and then someone comes along and camps next to you who likes to play until dawn, you'll be totally wrong, if you complain. There is NO QUIET ZONE!! Bring ear plugs, if you think 4:00 a.m. music would be a problem for you. Whatever you do, DO NOT complain the folks making music. The festival is for music. There is no time when it's not appropriate.
There's even a story about two musicians (Bob Hubbach and David James) who actually played while sleeping. They'd doze off with eyes shut and chin on chest, but their hammers didn't stop and the music continued.
And on Saturday night, it's often a "contest" to see who can jam the longest.
But the most important thing about this event is that the folks who attend are the most friendly bunch of folks you can imagine.
If you still have questions, write to the skaryds as noted below.